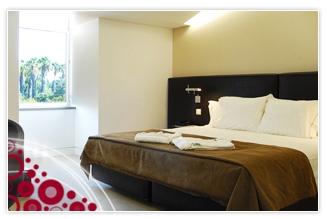 Jeronimos 8 Hotel Lisbon
Lisbon's first design hotel, Hotel Jerónimos 8 is a four-star hotel that stands apart for its concept and convenient location in Belém, in the centre of major monuments and museums. An urban resort that combines three colors in its contemporary design (an exciting "chocolate" brown, a stimulating "carmine" red, and a "relaxing" cream) to incite surprising feelings of harmony and tranquility.

The hotel offers an open-air patio for the pleasure of its guests. The private patios' oriental inspiration creates a serene atmosphere in which to relax during the stay. The soothing sound of running water, the intense brightness of the white and the tranquil green of the grass and bamboos are interrupted only by the sofas that beckon for someone to sink into them.

Accompanying the cool ambiance, service in the bar is cozy, attentive and exclusive, offering a fun and interesting proposal for party organizers, against the background of the Jerónimos Monastery. This is the only place in Lisbon where one can sample the extraordinary Bussaco Reserve wines, from the Bussaco Palace Hotel's legendary cellar, as well as a fantastic list of select Portuguese wines, sparkling wines, champagnes and cocktails.